Change the world with REAL Authentic Product.
The pair of sake that pursues ultimate Japanese aesthetics and craftsmanship.
Savor and admire the best taste of the season, just as you love cherry blossoms.
This expression is special to Japanese sake, making a pair out of heat-treated raw sake.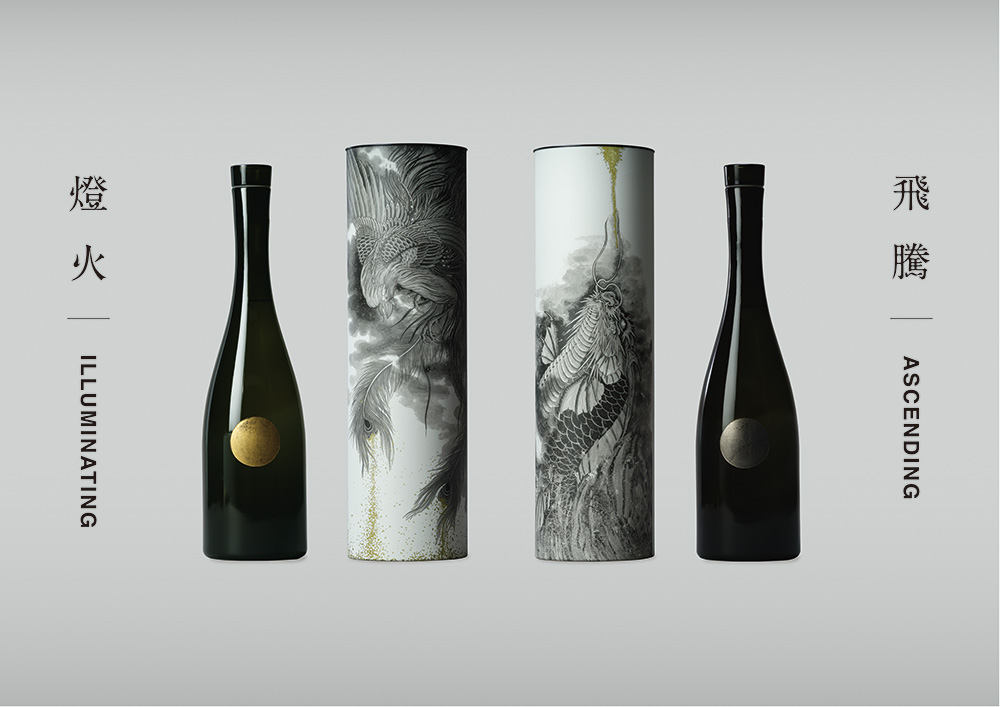 These two open a whole new world.
Ascend the celestial, illuminate the earth.
"Hitou" "ASCENDING" and "To-ka" "ILLUMINATING" , an enjoyable set of Sakes.It is created in hope of challenging the tide of automation and AI, to show the true value of the Japanese manufacturing and craftsmanship without sparing any time and effort, with hope for the world to be changed so that those who live earnestly get Illuminated and Ascend them to the next level.
Package Syun,
the Ukiyo-e Artist
Like a swelling Dragon rising strong, and Phoenix that light the world with its warm blessing.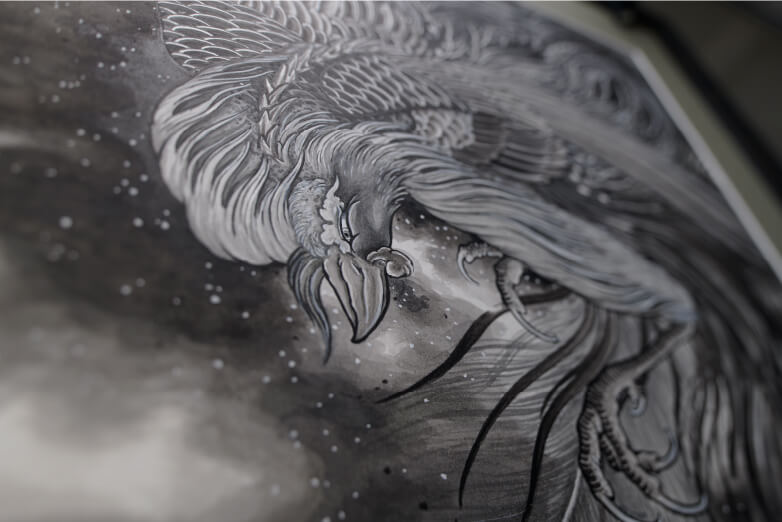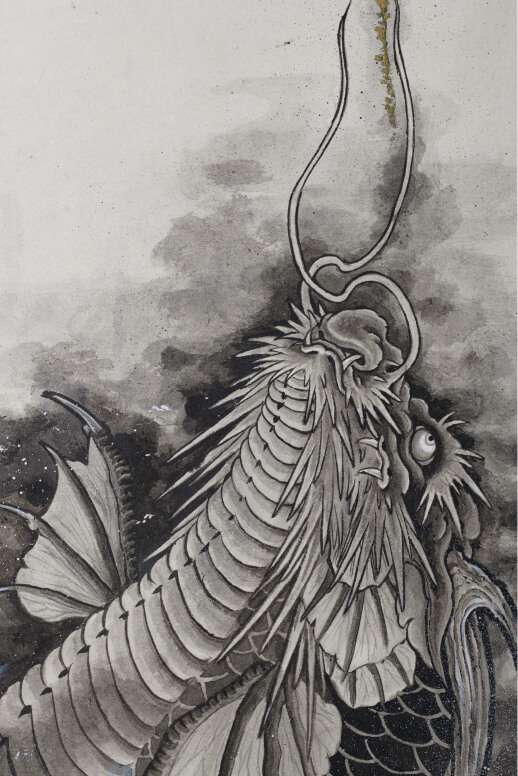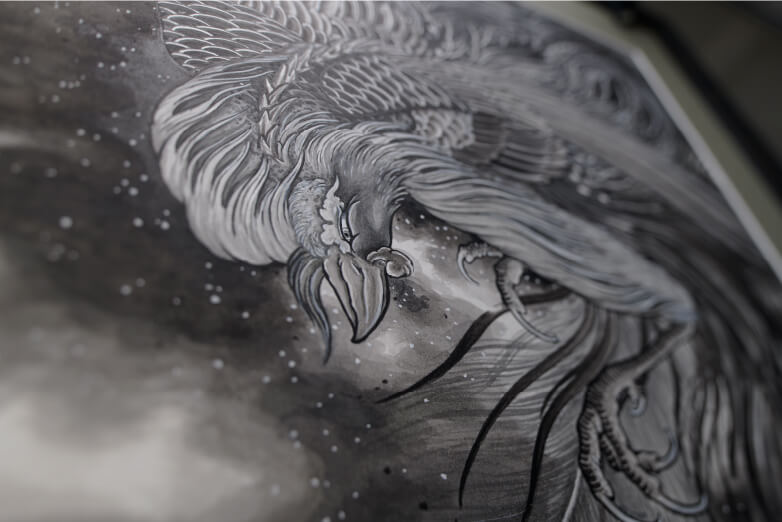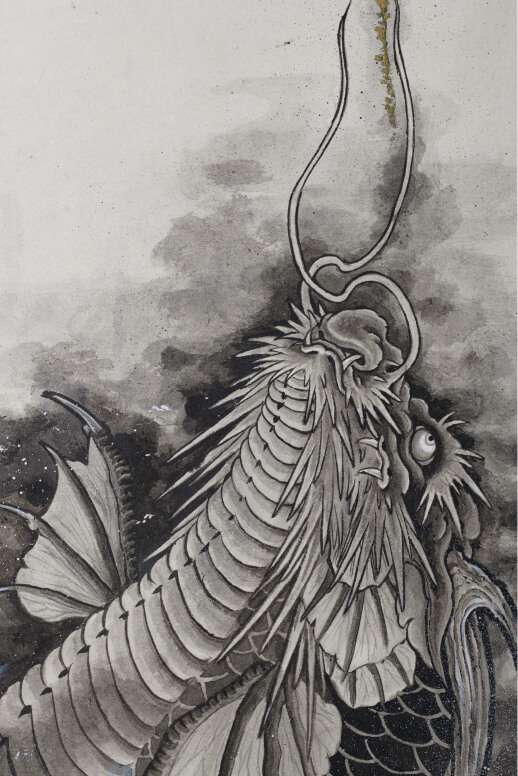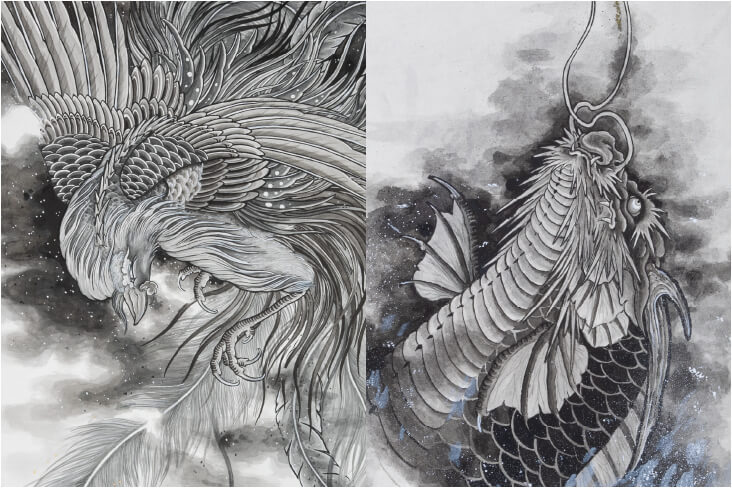 The set is composed of two bottles of sake: "Hitou" "ASCENDING" and "To-ka" "ILLUMINATING". One went through a heating process for pasteurization, while the other was intentionally kept raw to enjoy the natural flavor. Each has favorable characteristics due to these conditions. The souls of them are drawn in a pair of real Ukiyo-e Art packages that represent Longmen, the myth from an overwhelming "Ascending" power of carp that leap over the Dragon Gate to become mighty Dragons and Phoenix that has landed to "Illuminate" the entire earth with warm blessing. These Dragon and Phoenix, newly written by Syun, the Ukiyo-e Artist, will be veiled by strong undulation and gentle warmth, which will bless and exalt those who desire to realize a whole new level, and those who live earnestly as well.
Ingredients Rice
Tobe-Mai, the Full organic rice
Sparing no time and effort by Cultivating rice by hand.
Using the limited harvested "Koshihikari" rice.

Rice has been an integral part of the Japanese lifestyle for a very long time. Hideharu Tobe moved into Matsunoyama, To¯kamachi-City, Niigata, with his family over 20 years ago in a manner of living environmentally responsible self-sufficiency. Not only the entire process of making Tobe-Mai (rice) is done by human hands, the process is completely pesticide-free, fertilizer-free and incorporates a sun-drying method. Since the cropping area is very small while taking wide intervals between the roots in order to ensure sunlight and for weeding, Tobe-Mai (rice) is extremely rare that of yield per acre is less than 60% of the average. Approximately one-third of the total harvest is used for the sake.

20 years of processing without the use of pesticides and fertilizers.
Cohabiting with nature's natural state is what brought this ultimate paddy field.

Fields are located on the most upstream of the snow-country mountain, in desire to be purified not only itself but also all following downstream as well. Never drain water in the field to sustain all lives in the environment, this rice only grows under order of perfect Ecosystem. Such rice, a gift from nature, tastes sweet and Umami rich with fully nourishing in it. Tobe's farming method is an art with a philosophy of constant love for all lives and to be inherited to next generations as a hope.
Water
The zero magnetic field groundwater
One of the most famous Power Spots in Japan.
The zero magnetic field groundwater from the Bungui Pass is 100% used for the sake.
"Amazing!" All the brewery staff exclaimed after tasting the water that was impressively pure and tender in taste. Bungui Pass located in Ina-City, Nagano, the well   known energy sites that is located on the Median Tectonic Line that is also known as "Long mai" (The ridge line which is explained in Feng Shui for good energy flowing through, appears to be like dragon figure.), which also locates the various sacred site such as Suwa Taisha Shrine, Toyokawa Inari, Tenkawa Benzaiten, Ise Jingu, and Koya-san. The water used for this Sake is collected at the spring located on this magnetically neutral and tectonic energy overflowing site. This water is 100% used on the whole brewing process, beginning to the end. At the main brewing phase, we use the water collected on New-Moon day, when it is told that wishes are supposed to come true, exclusively.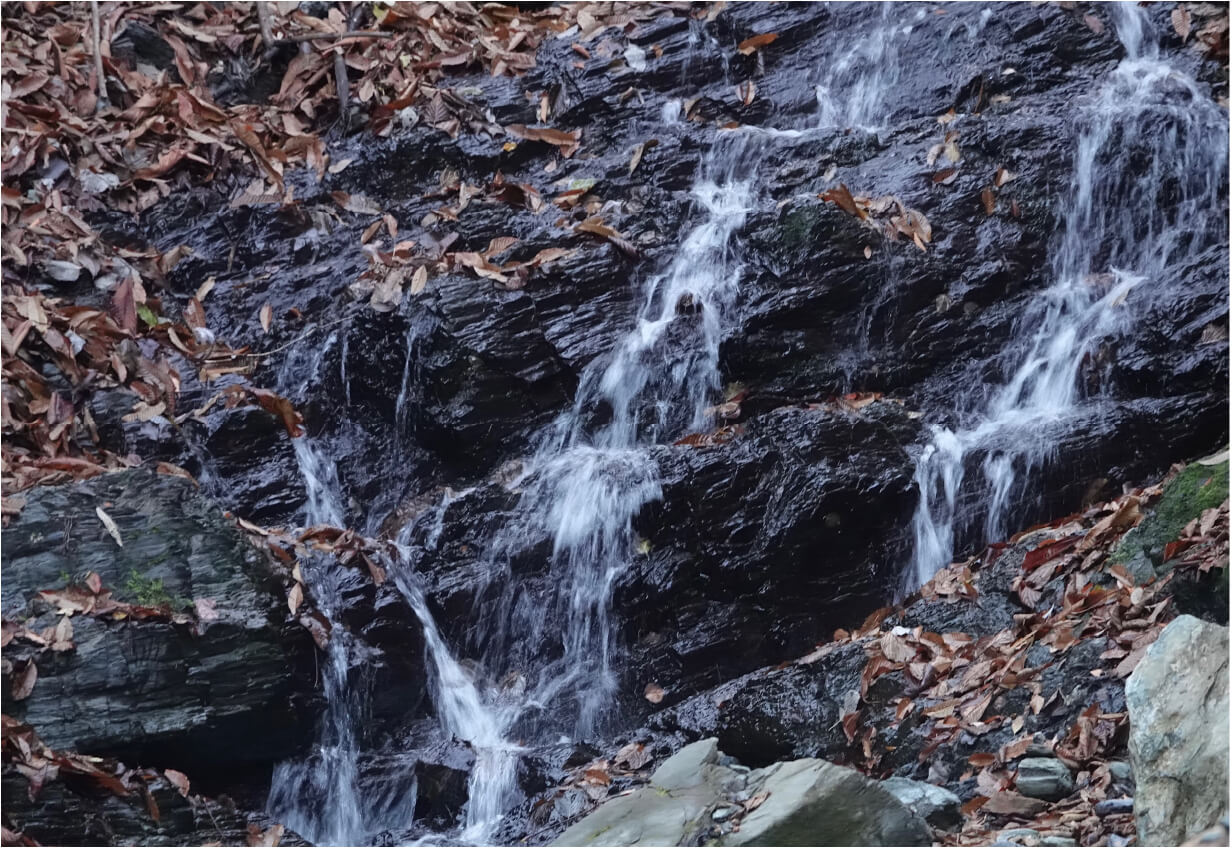 Brewing
Ono Sake Brewery
Sake brewing is completed all by hand, so the quantities is very limited.
This is the brewers' challenge.
Ono Sake Brewery was founded in 1864 in Ono Tatsuno-Town, Nagano, that is located in the center of Japan, famous for its medieval post town along the road of Early-Nakasen-do and Sansyu-kaido. While having to experience brutal winter conditions, the staff of Ono Sake Brewery kept working earnestly and particularly in order to complete their job all by hand since they were founded. This time, they were facing the minimal brewing which they never had tried.
Brewing under natural temperature without artificial air conditioning system.
Traditional bag pressing technique brings the innocent taste on the sake.
In respect to the Tobe Mai (rice) philosophy, "Make it live", natural temperature control was practiced using an exclusive chamber under careful monitoring by the specialists throughout the day and night. Natural extraction by traditional bag pressing technique brings the Sake crowned with the title "Daiginjyoshu", and could be described as the Ultimate Masterpiece.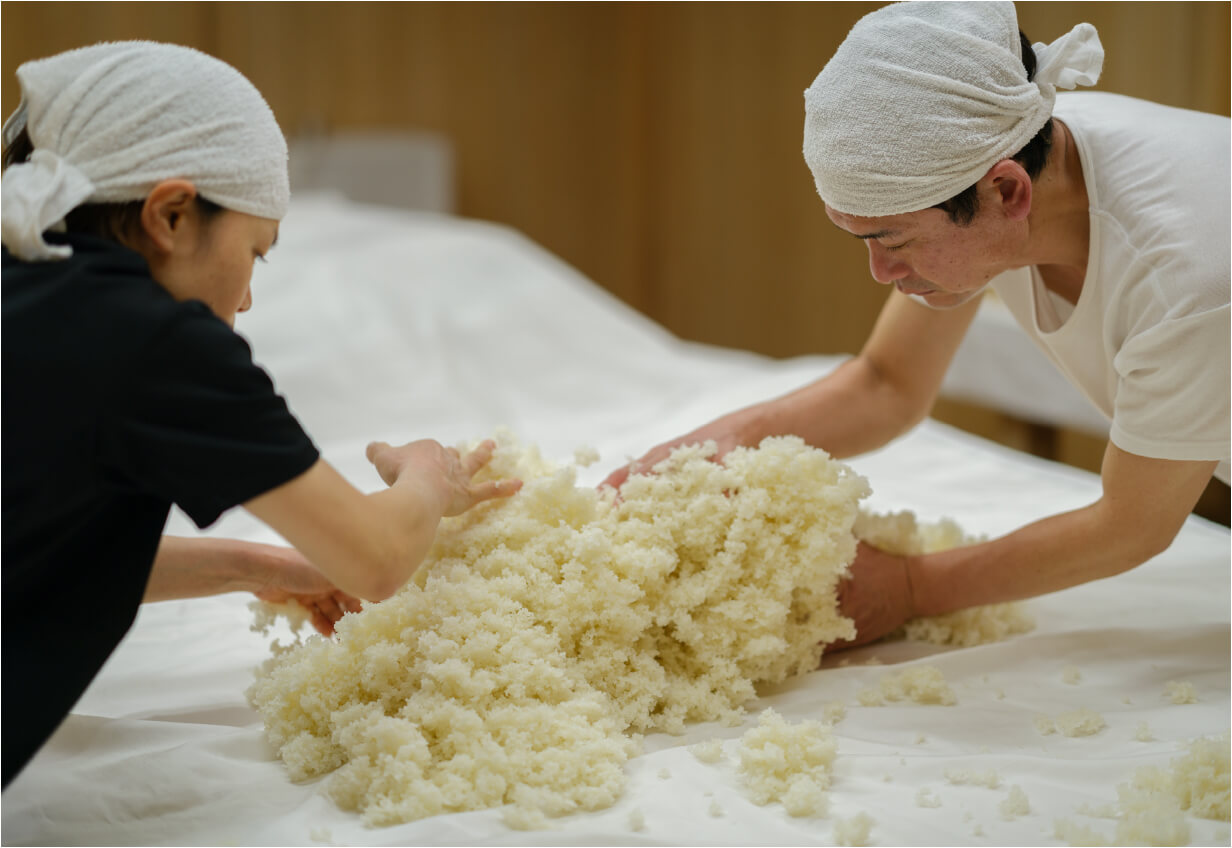 Bottle Design
Maruyoshi-Kosaka Urushi Lacquerware
Each bottle is painted by a craftsman by hand.
These bottles pursue each and unique expression.
The sun and the moon which represent fire and water, are drawn on the bottle as representation of the world where different things are accepted and bring balance. The circle represents the sun and moon but also indicates "Made in Japan" as well. Maruyoshi-Kosaka Urushi Lacquerware, located in Kisohirasawa, Shiojiri-City, Nagano, is a pioneer for applying Urushi work on glass surfaces. Highly skilled artisans individually applied pure platinum foil for "ASCENDING" bottles, and pure gold foil for "ILLUMINATING" bottles, all done hand one by one. To form a memory of this special Sake's taste into the shape, you could evoke it by using the bottle as a vase or carafe after finishing it. Aging effect by hand will also make the bottle one and only.We will continue to enhance the collection by introducing new techniques and expressions every year.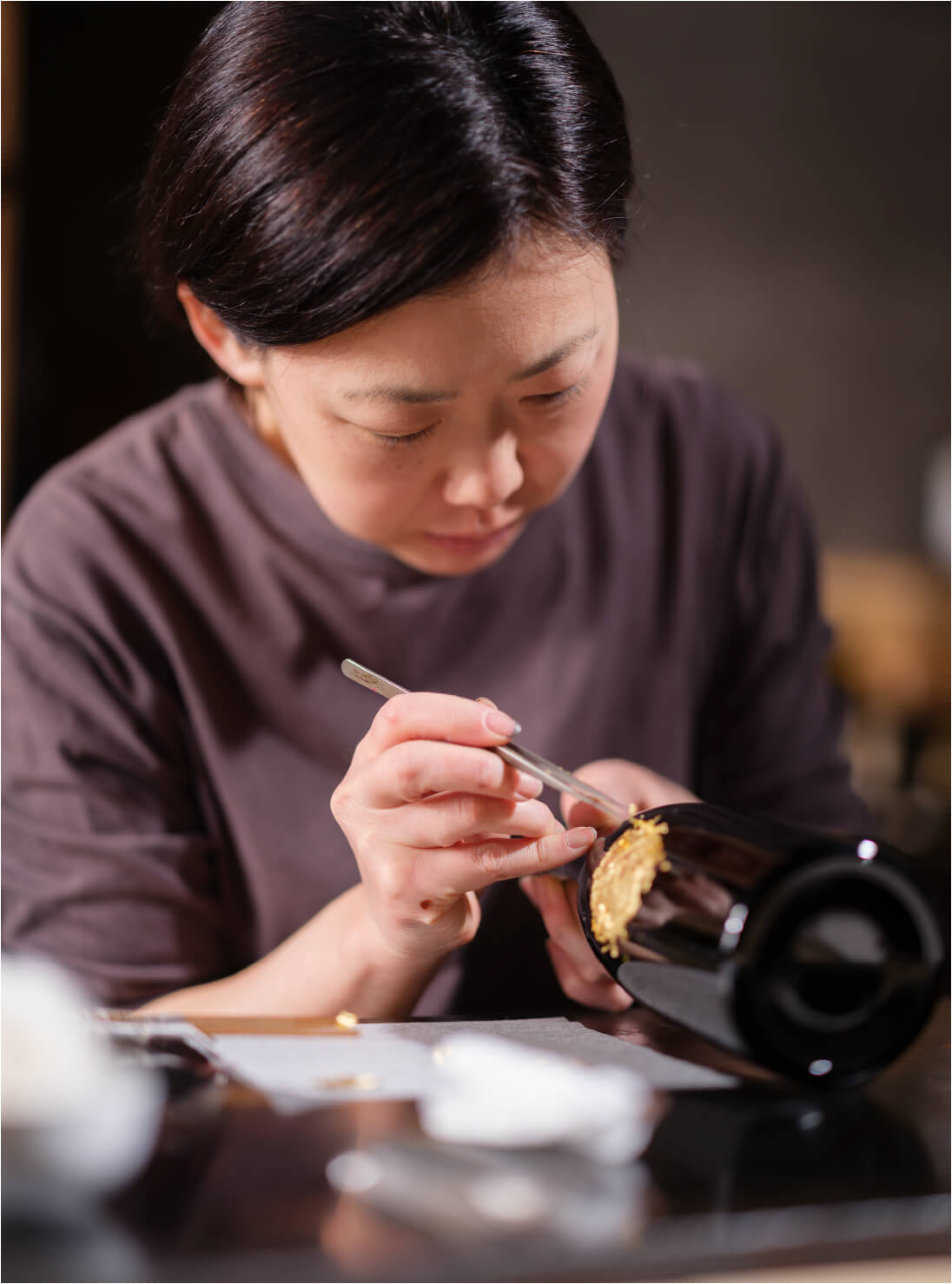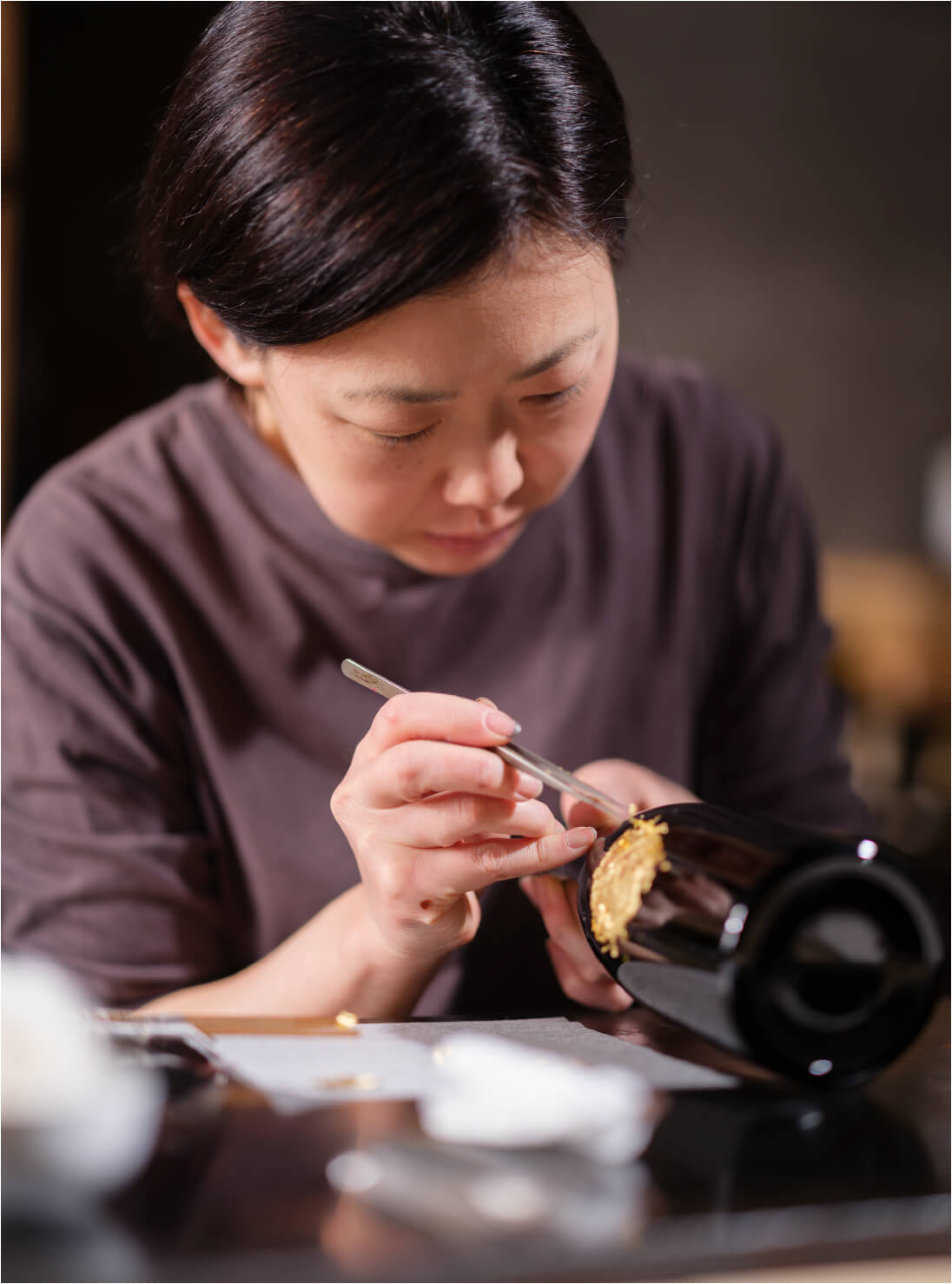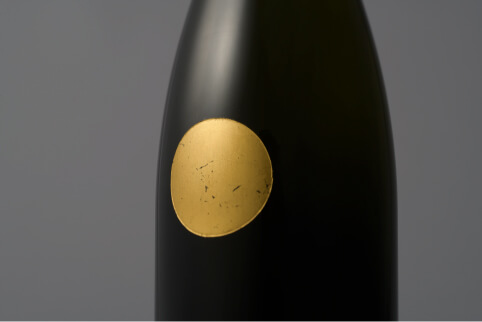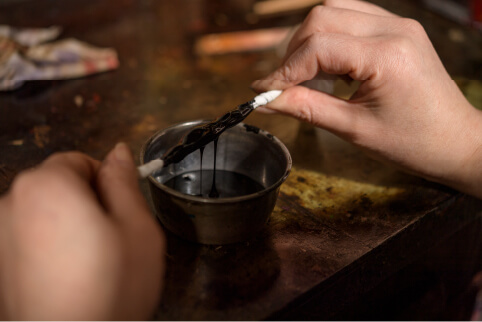 Non-Fungible Token Art
Delivering the value of analog craftsmanship through the latest technology to the world.
Paid option
We will issue the NFT artwork of the pair of dragon and phoenix on the package, which is tied to the annual serial numbers of "Hitou" "ASCENDING" and "To-ka" "ILLUMINATING", to those who wish to obtain it. This is for the preservation of the value of this sake, and extending our wholehearted message to the world.
※NFT artwork will be open only to those who have purchased "Hitou" "ASCENDING" and "To-ka" "ILLUMINATING." Details will be provided via email as soon as they are ready for announcement.
※If you live overseas and wish to purchase our sake along with our NFT artwork, please contact us by email (This service will only be available in English and Japanese.)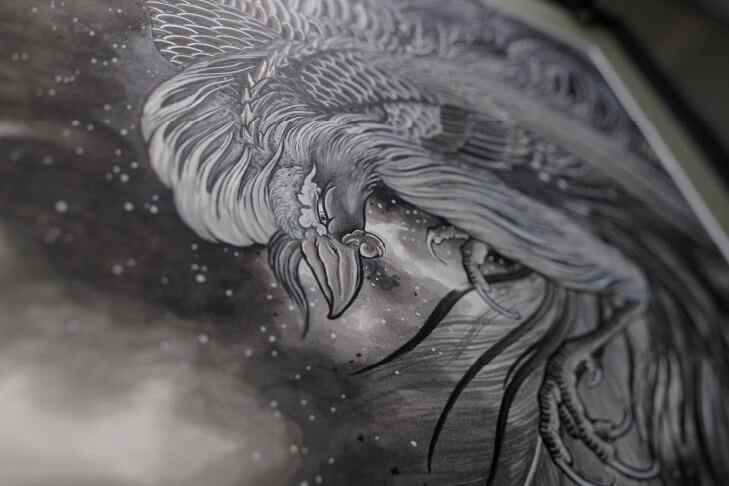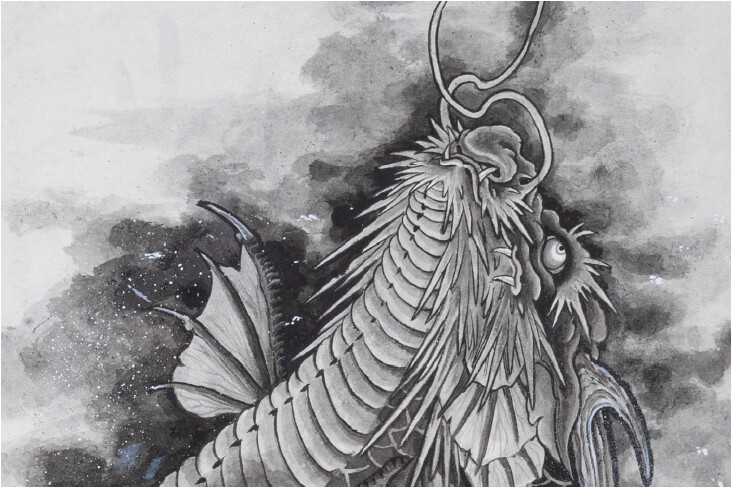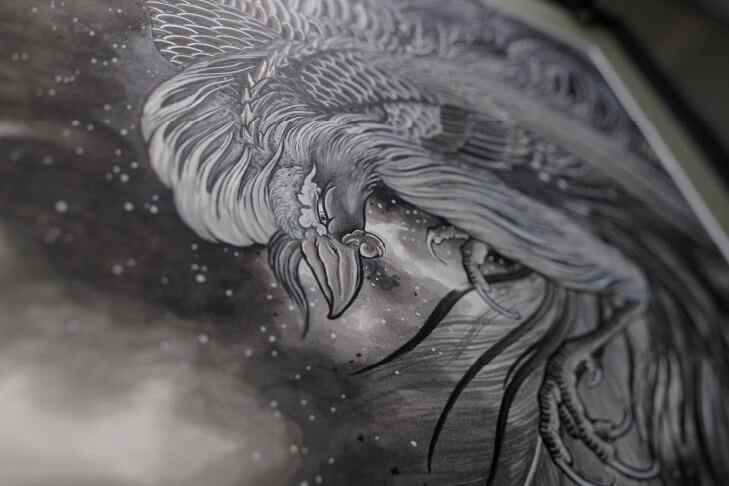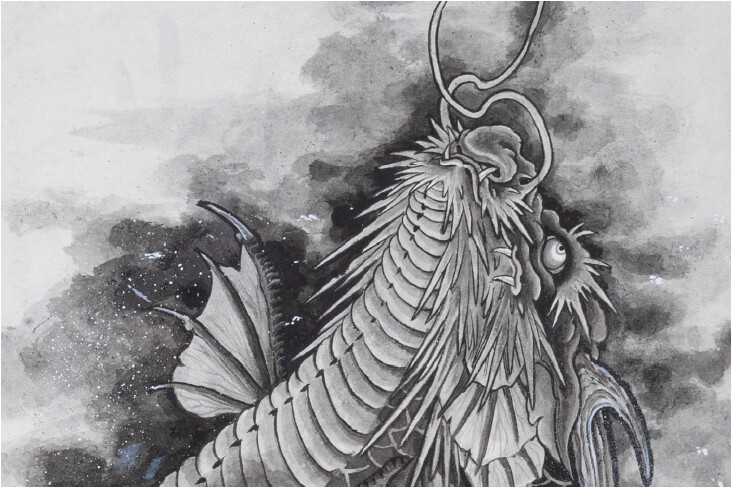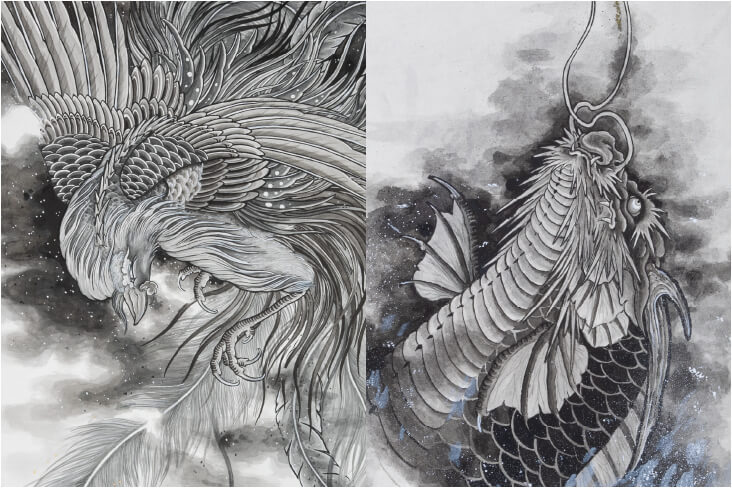 Serial Number
The year and serial number will be labeled with "Urushi" lacquer.
The special editions will be made in specification of "maki-e", the form of Japanese traditional lacquerware.
The year and serial number are hand-printed on the bottom of the bottle with white "Urushi" lacquer by a craftsman. The logo mark will also be printed to indicate that the bottle is made by "Maruyoshi-Kosaka Urushi" Lacquerware. The numbers of these special editions will be printed in specification of "maki-e" with pure gold and pure gold leafs.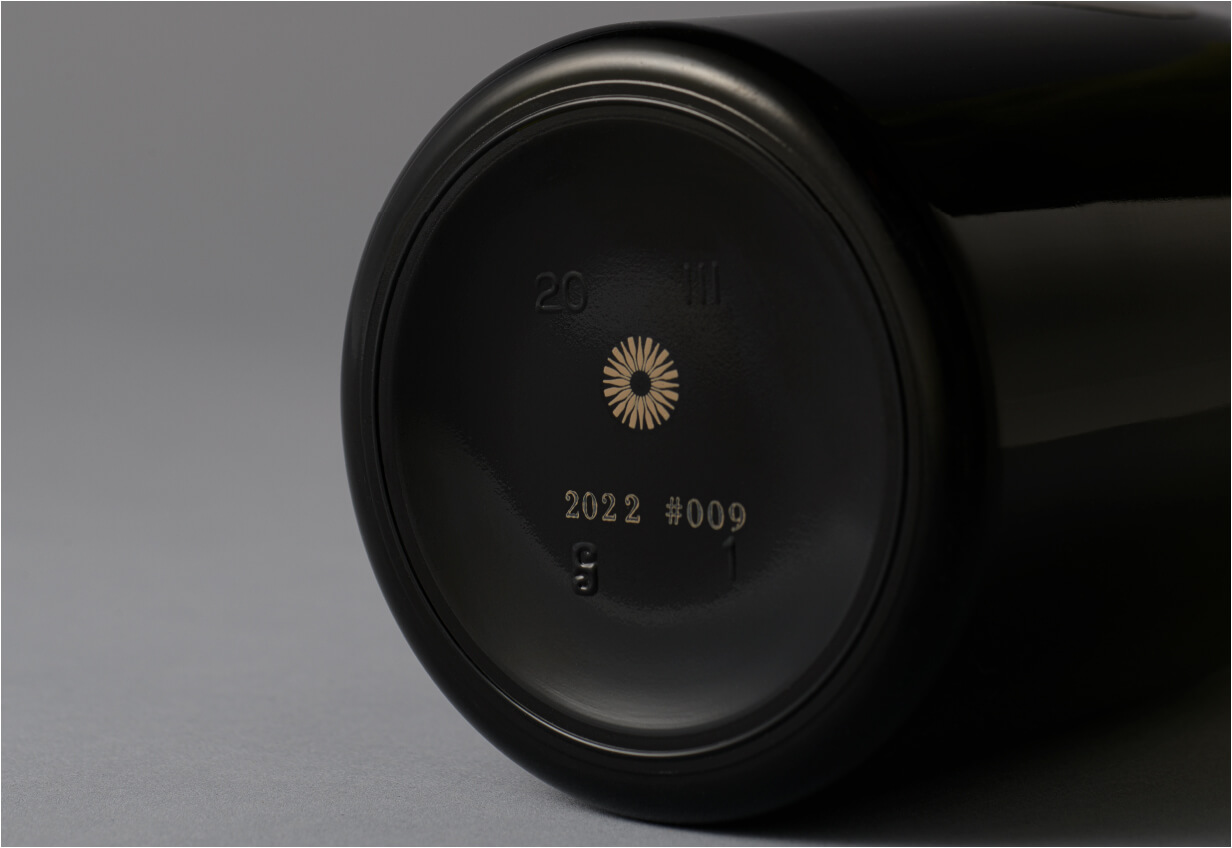 Special Edition
Serial number 1 will be printed differently from the others in the special version.
For those who are particularly looking for an exotic bottle with its uniqueness and good-luck.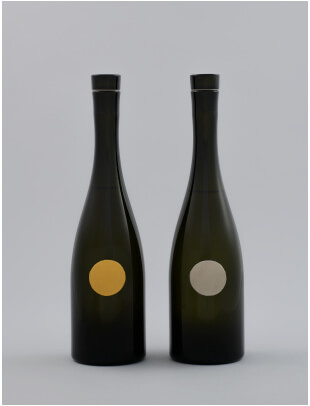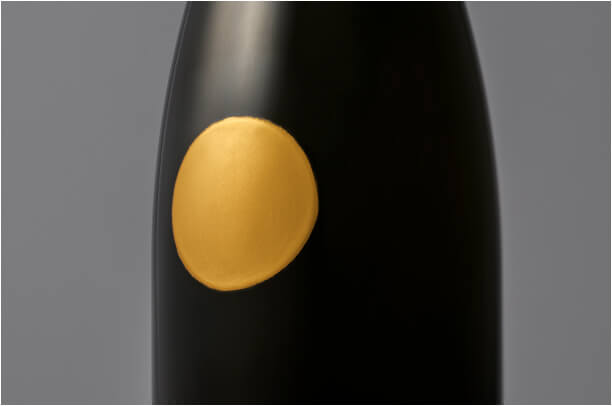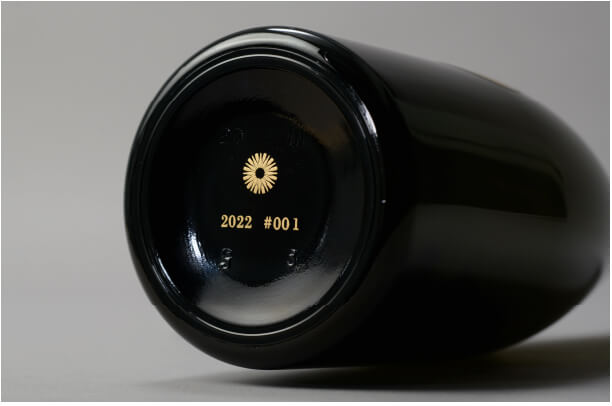 This will be number one, and the "only one". - The bottle in which sake is poured the very first among the "Hitou" "ASCENDING" and "To-ka" "ILLUMINATING" series "maki-e" technique using pure platinum powder and pure gold powder for the painted circle. The "Urushi" lacquer is made by kneading rusty soil from Kiso Hirasawa, Shiojiri City, Nagano Prefecture, where Maruyoshi-Kosaka Urushi Lacquerware is located. It has been created by drying in layers for several times, which requires a great deal of process. The serial numbers of 7, 8, 77, and 88 are made in "maki-e" specifications using pure platinum powder and pure gold powder. All proceeds from the special edition will be used to support a sustainable agriculture, the maintenance and promotion of traditional Japanese crafts and performing arts, and to broaden them throughout the world.